Events + Speaking Engagements
Caren Osten is available to speak at events, conferences and retreats around the world and online. Her experience as a writer, certified coach and mindfulness meditation instructor—combined with her warmth, knowledge and expertise in the area of positive psychology, make her an engaging and dynamic speaker.
Caren's presentations can be tailored to the needs of your audience and organization, and are delivered with authenticity, energy, and inspiration. Please contact Caren for details and scheduling at [email protected] or 914.362.1996

UPCOMING SPEAKING ENGAGEMENTS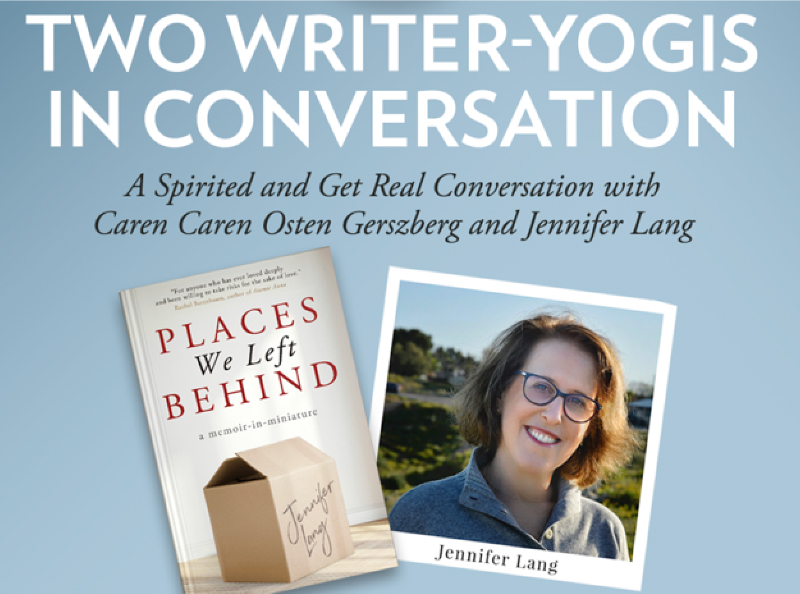 Wednesday, October, 18th 
On Wednesday, October, 18th, I will have the great pleasure of interviewing my dear friend, Jennifer Lang, a gifted writer whose memoir "Places We Left Behind" was published earlier this month.
You will not want to miss this conversation about love and marriage, commitment and compromise, faith and family. The event is free, and all are welcome.
October 18 at 7:45 pm at the Westchester Jewish Center, Rockland & Palmer Avenues, Mamaroneck, NY
and Strategies of Well-Being
Please RSVP to [email protected]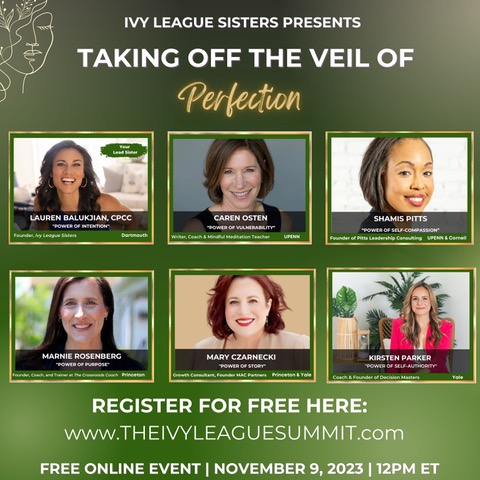 Thursday, November 9th 
On November 9, hundreds of women will gather in a virtual circle to listen, share, and inspire one another to take off the veil of perfection. This event is for any Ivy League woman, those who identify as a woman and allies of women—who recognizes the cultural conditioning of pushing, perfection and performing is not only costing us our physical and mental health, but also leaving deep scars that keep us from embracing our raw, real beauty.
The event is online and free! All registrants will receive the session replays.
Reserve your spot here: https://bit.ly/Caren-ivy-summit
PREVIOUS SPEAKING ENGAGEMENTS
Sample Speaking Topics 
What Makes a Happier, Healthier Life?  The Science 

and Strategies of Well-Being

Cultivating Resilience in Challenging Times

Mindful + Positive Communication in Relationships

Everyday Mindfulness: Tools to Learn + Live in the Present Moment

The Power of Expressive Writing: Explore, Nurture and Share Your Stories

Finding the Right Balance: Work, Love + Play In a World of Competing Demands

Renovating the Empty Nest after the Kids Leave Home

Mindful Parenting: Cultivating Compassion + Positivity
RECORDED SPEAKING ENGAGEMENTS
JCC Manhattan: The Power of Awareness
FEEDBACK FROM RECENT PRESENTATIONS
Caren is one of our core mindfulness teachers at Pause to be Present where she shares her life coaching skills in positive psychology and meditation with our community. Caren is an amazing teacher, offering her insight and expertise in each class with a warm and relatable approach.  So many people have benefited from her wisdom!  
Cheryl Brause
Co-founder, Pause to be Present
Caren's session was the highest-rated training for our consultants and it couldn't have arrived at a better time! We are so grateful for her wisdom and calming, positive presence.
Claudia Kandel
Director of Development, TAP
Caren did two mindfulness workshops at our office , which were insightful and interactive, and covered the science behind mindfulness and how to apply it. She guided the staff in a meditation, and the nearly 80 employees who attended walked away with practical tools and strategies to reduce stress and bring greater calm into both their work and home lives. The workshops were a huge success!
Heather Zuckerman
Chief of Staff, Neuberger Berman
We hired Caren to create a three-part wellness series for our corporate staff. Her knowledge, professionalism and enthusiasm came through as she guided us during interactive sessions that covered concepts such as self-care, positivity, relationships, mindfulness, resilience and mindset. During a challenging time, Caren provided a wide array of research-backed tools to apply to our daily lives in both work and life. We all walked away with a greater sense of calm and gratitude.
Hugh Rovit
CEO, S'well
In her fabulous talk on positivity and resilience, Caren did a masterful job of weaving academic study into practical advice. She is powerful in her warmth, calm, and confidence.
Jane Veron
CEO, The Acceleration Project
Caren's presentation gave our high school faculty a much needed boost of positivity as we ended the year. Her knowledge and passion were impactful for all in the room.
Liz Clain
Principal, Mamaroneck High School
Caren's workshop was so informative and so actionable and timely. She has such a warm and relatable presentation style and the feedback from the team was terrific!
Nancy Rosenberg
COO, The Acceleration Project
Caren is a real gem. We featured her on a panel about positive psychology and resilience and her advice was stellar. Caren's expertise and approach really resonated with the participants and the feedback I got from our viewers was exceptional.
Nancy Tepper
Co-founder, MT Nesters
Caren is an amazing facilitator and teacher. She led our team in a two-part wellness workshop that was so engaging, practical and inspiring. While leading the group, she created many opportunities for participants to connect with the ideas and practice the concepts, which included mindfulness and positive psychology. After the first workshop, my colleagues asked for more—a sign of a worthwhile and helpful training of ideas and tools we can apply to our individual lives and to our workplace.  In the era of Zoom and isolation, this was a particularly meaningful way to slow down and connect with colleagues and our own selves.
Pam Haas
Executive Director, NY Office, Facing History & Ourselves