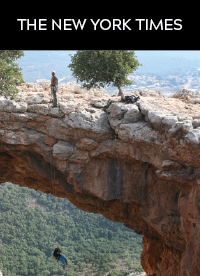 Israel From Cliff Top to Desert Bottom
During a recent trip to Israel, deep yoga breaths came in handy as I tried to control my anxiety. My fear wasn't related to political danger, but rather, it was the kind of fright you feel when you are dangling from a rope on the side of a steep canyon of the Judean Desert.
Yes, I had a harness on, and the rope was controlled by the skilled hands of our 20-year-old guide, Boaz Langford — a soldier in an Israeli Army unit that specializes in rescues involving supports and extreme climbs. So I gently rappelled my way down the 130-foot cliff, feeling increasingly secure and ultimately exhilarated.
With terrain that ranges from snow-capped mountains and vast desert to lush valleys and continuous coastline, Israel is being recognized as an ideal destination for adventure travelers.