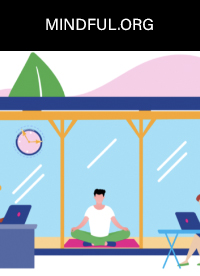 Mindful Working: The Best Practices for Bringing Mindfulness to Work
Leading companies from Verizon to Google are bringing mindfulness into their company cultures. Here's why they're investing in employee well-being, creativity, and stress management.
Our virtual meeting started with a "minute-to-arrive" practice. Jason Luk, a Verizon Media employee who holds the titles of advertising-sales account manager and global mindfulness lead, began:
Place your feet on the floor and lengthen your spine. Close your eyes, take a deep breath, and begin to notice any sensations in the body. Look at internal weather patterns, noticing how do I feel right now. Set an intention…who will I choose to show up as during this meeting?