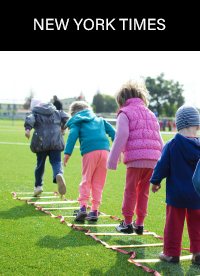 Missing the Olympics? Organize Your Own Games, at Home
Sure, the official Summer Games have been postponed. But with most people staying local and many camps shut down, you can create a fun, friendly competition in your own backyard.
Watching athletes compete in the Summer Olympic Games is a long-awaited highlight for millions around the world. It's a ritual that comes every four years — a chance to escape the heat, crank up the air conditioning and watch televised events like basketball games, track-and-field relays and table tennis matches. But with the coronavirus outbreak forcing the 2020 Olympic Games in Tokyo to be postponed, viewers will have to wait another year.