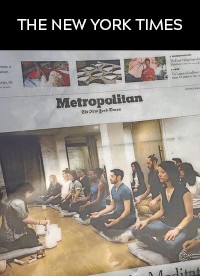 No Texts, Please, We're Meditating
When a photo of a wall covered in lush green foliage showed up on Grace Clarke's Instagram feed, she felt an immediate urge to track it down. Stressed out and headed to a meeting at Madewell, where she works as a social media copy editor, Ms. Clarke saw that the wall's location was on East Eighth Street in Manhattan at a meditation studio called MNDFL, which opened in November.
The next morning, Ms. Clarke, 29, went to the studio and spent 30 minutes in a meditation class led by Lodro Rinzler, one of MNDFL's founders.