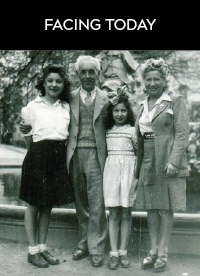 The Memories We Keep
I remember sitting on my parents' bed one evening after dinner when I was seven years old, squeezing into a spot next to my older brother, Marc. In the coziness and safety of their room—walls clad in purple fabric and a white shag rug underfoot—my parents began to share their stories.
There was the time my mother's family was living in Grenade-sur-Garonne, a small village in southwestern France, and their backyard housed a hole in the ground to be used as the toilet. One of their chickens accidentally fell in and, flapping its wings frantically, spread the hole's contents all over the yard. My brother and I doubled over in laughter, unaware that the story was from those dark days, lightened for our listening pleasure.