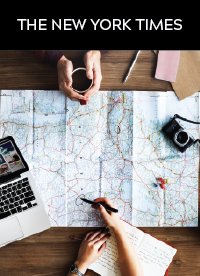 Traveling to Find Your Roots
It was lunchtime at the Outlaws' Shack in Poiana Brasov, a mountain resort in Transylvania, and we were washing down chunks of kashkaval cheese and peasant bread with sips of tsuica, a Romanian plum brandy. At a neighboring table, a man picked up a red onion and bit into it as if it were an apple — something I had seen only my father do.
Traveling to Romania a few years ago was a chance to see, firsthand, where my father, who had died two years earlier, spent his childhood. Armed with addresses I'd collected from my father's sister, and accompanied by my three children, I felt the trip was a chance to experience my father's heritage: to see his home and school, the local synagogue, the mountain resort where he learned to ski, and to eat the foods he spoke of longingly (though I refrained from biting into a raw onion).