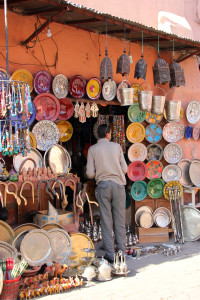 It's hard not to be mindful of your surroundings in Morocco—the North African country that seems to emanate a wondrous overload of the senses. The sights, smells, tastes and sounds can be overpowering and beautiful, startling and thought-provoking.
In a country where the terrain ranges from snow-capped Atlas mountains and the vast Sahara desert to the serpentine streets of Fez's medina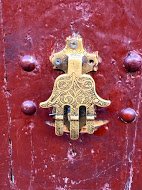 (old city) and the nearly 1,000 miles of Atlantic coastline, your senses are frequently on high alert. As they well should be.
On a recent trip to Morocco, our group had the good fortune to trek amidst the natural beauty of Mount Toubkal, feel the warm golden sand of the desert dunes, smell the aromas of animal skins at a tannery, and savor the flavors of many a sumptuous tagine. Thanks to the help of travel outfitter Quivertree, who helped us plan our trip and provided us with our amazing guide, Lahcen, our journey was filled with a varied exploration of Morocco's fascinating offerings—heavy on adventure and a good dose of culture.
Here are a some of our trip's highlights:
Marrakech
The 11th century Place Jemaa el-Fna is straight out of the movies—a large plaza filled with musicians, snake charmers, storytellers, and food stalls to waken every sense possible. We also visited the Jewish quarter, or mellah, and its synagogue which dates back to the 16th century.
Once owned by Yves Saint Laurent and now home to a memorial, the Majorelle Gardens are a lovely tribute to nature, lined with trees and exotic plants and sprinkled with vibrant colors in the way of flower pots and benches.
Dinner at Le Comptoir Darna was not only rich in tagines and couscous, but also in music and belly dancing. We had another great meal at Al Fassia Gueliz, a restaurant run by women—house specialties include lamb shoulder and pastille with pigeon.
As far as sounds go, the call to prayer is one that resonates—five times a day—when the blaring sounds emerge from speakers all over the cities, villages and countryside, calling Muslims to prayer. It was a chance, at times, to stop in our tracks, and just listen.
We stayed at La Maison Arabe, located in the medina, and loved its exotic gourmet breakfast buffet and subterranean hammam (Turkish bath). On our way out of Marrakech, we made a stop in a Berber village for a memorable cooking experience.
We were welcomed by the chefs at ORTY-CT, and spent the next several hours learning the art of serving tea, touring the organic garden where we harvested vegetables and herbs such as coriander and lemongrass, smelling the ground spices used in
Moroccan cuisine, watching a bread making demonstration, preparing and cooking a meal of tagines and vegetable salads and finally, enjoying our the fruits of our labor.
In between all things culinary, we took a walking tour of the village, around which we made our way through an olive grove, past a small herd of sheep, met some local children, and learned about village life.
Atlas Mountains
From our next home base, the Kasbah du Toubkal, we ventured high into the mountains, often likened to the Himalayas. [So much so, that Martin Scorcese used this vista as a stand-in for the Himalayas in his film Kundun.] To reach the kasbah, we left our van behind in the village, and followed on foot as the donkeys made their way uphill with our suitcases on their backs.
Temperatures dropped significantly at night, and we were welcomed with a hot water bottle tucked into our bed sheets. In the morning, we awoke to breathtaking views of Mount Toubkal and the surrounding snowy mountains against a perfectly blue sky. Our trekking guide,
Abdel, guided us through the valley and its sprinkling of Berber villages. After a couple of hours of climbing and learning about the culture of the Imlil valley—filled with goat farms, walnut groves, and fruit trees—we continued, eventually stopping for lunch.
There before us on a grassy plateau was a table cloth surrounded by floor cushions. After offering us mint tea, a couple of local chefs presented us with platters of salads, slices of cheese, rice and meatballs. We'd earned the food and were blessed with the scenery.
Sahara Desert
Transported to Merzouga in 4×4 cars, we hopped out and found ourselves in the middle of the desert. Within minutes, we were assigned a camel, handed a snowboard and off we went.
Riding the camels through the dunes for nearly an hour, we arrived at a flat area where we disembarked and headed up a hill on foot. From there, we strapped on a snowboard and headed down the hill. Up and down, laughing and falling, gliding and balancing, we were sandboarding in the Sahara.
To cap off the afternoon, we sat on the top of a tall dune, perched up high as the sun set slowly in the distance, the diminishing light transforming the sand's color from orange to gold to beige. Pristine. Our camels brought us back toward Merzouga, where we entered a campsite for our overnight stay. We were greeted by Berber musicians and shown our luxury tents—moroccan rug, beds with netting, toilet and sink. My kind of camping. There was a campfire where we sat and sipped wine, and then a meal, more music and dancing. After breakfast the next morning, I was ready to move on to Fez and into a warm bed.
Fez
Our guide, Lahcen, led us through the serpentine streets of the medina where the widest route may just allow two donkey's to pass one another. We entered through the Blue Gate, an historic point of entry, visited Maimonides' house, toured a tannery where we watched the animal skins soak in vats of naturally-colored dye, and made a spontaneous stop in an elementary school class where the children serenaded us with songs. We had fun bargaining as we shopped for souvenirs, ducking to the side when a donkey came through carrying cargo–which could be a crate of live chickens.
We had some great meals in Fez, first at the Restaurant Numero 7, where visiting chefs from around the world rotate every three months, and the emphasis is on all local ingredients. And Cafe Clock, owned by a Brit, served up simple Moroccan and Middle Eastern food for lunch—we found a table on the rooftop which has great views of the city and the nearby mosque.
Paying attention to your surroundings—what is actually happening—is the essence of being present. So if you go to Morocco, be mindful and there's no doubt your senses will awaken to the experience.