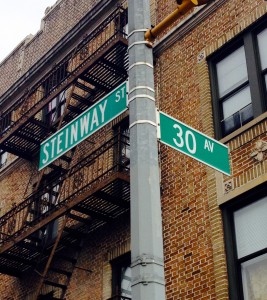 When I signed up for a culinary walking tour of Astoria, I'd expected to learn about the neighborhood while ducking into some of its Greek restaurants. While I am happy to report that some Greeks do remain, I found instead an enlightening mélange of cultures and cuisines from mozzarella-making and baklava to feta and falafel.
After reading a recent New York Times Real Estate section cover story, I now know that Queens is on its way to becoming "the next Brooklyn". It was only a matter of time until the young and hipster-ish were priced out of their neighboring borough to the southwest.
Led by Renee Cohen, the chef and brains behind CuisineArts, the tour took a food-loving pack of 12 women on a four-hour walk around Astoria, Queens, and inside some of its most authentic cafes, restaurants and markets.
The adventure began at the Omonia Café, where our group gathered and learned about the area's history. Renee talked about Astoria's background, and more relevantly about the recent changes in the neighborhood and the fusing of cultures. As we sipped our coffee and tasted Omonia's homemade baklava and spinach-feta pie, the café's manager, Yanni, explained the history of the café – opened in 1977 by Greek immigrants – how they make their phyllo dough from scratch, and proudly that their wedding cake was featured in the film, "My Big Fat Greek Wedding."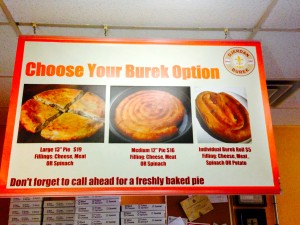 Our next stop was Djerden Burek (34-04A 31st Ave), a small Bosnian restaurant specializing in bureks – phyllo pastries filled with cheese, potato or spinach. We sampled each type, which are served with plain whole milk yogurt and a red pepper sauce.
The Mediterranean Food market on 34th Street was hard to resist. Here, we tasted two types of feta cheese (my favorite was the sharp Parnsasos) and olives, and perused the huge selection of olive oils from places like Crete.
At Dave & Tony's Salumeria on 30th Avenue, our group watched in awe as Joe, the current owner, performd a homemade mozzarella demonstration as we nibbled on cheese and sliced salamis. Originally from Naples, Joe explained how he starts with a 30 pound block of curd, breaking it into smaller pieces which he bathes in warm water several times, stretching and pulling to form the balls and braids of mozzarella, which he makes every morning.
Greek. Check. Bosnian. Check. Italian. Check. Now it was time to experience a more current trend in the neighborhood at Butcher Bar, a smokehouse that uses organic meats from local farms. Run by executive chef, Orlando Sanchez, the Butcher Bar has a backyard area where we sat outside and tasted the restaurants signature "burnt ends", pulled pork and cornbread. Two sauces accompanied our barbecue – standard (sweet and tangy) and habanero (very hot).
As if we hadn't eaten enough, I was still eager for the next stop at Beirut, at 28-28 Steinway Street. A market whose shelves were stocked with middle eastern products, like fresh pita and tahini, we walked through the market but realized the highlight was near the front door. There, Mohammad sliced open thin pitas, which he then filled with fried chickpea patties, lettuce, tomatoes, tahini dressing and a little bit of hot sauce – the perfect falafel.
Our tour was over. I made my way to the car, laden with with the food stuff I picked up along the way. Thanks to Cuisine Arts, next time I venture to Queens, perhaps with a stop at MOMA PS1 or the American Museum of the Moving Image, I'll know just where to shop, and especially where to eat.