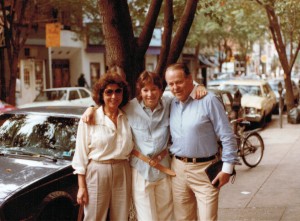 My father was Romanian. My mother is French. As a child, I heard many stories about life in their native lands.
I was fortunate to journey with my mother to France several times, visiting the homes, towns, and the convent in which she lived as a hidden child during the war.
While my father spoke lovingly to me about the mountainous region of his native Transylvania, he was afraid to go back and see what had become of the country, ravaged during the political reign of Nicolai Ceaușescu. He did return eventually, after Ceaușescu was no longer in power, and found his hometown, Brasov, and the surrounding region as lush and charming as he'd remembered. Unfortunately, I didn't make it there until after my father's death.
It was very important to me to share my parents' heritage with my three children, Nicole, Emily and Simon. The legacies would always a be a part of me, and now them, and I felt as if they'd understand their heritage more if they stood in the steps where their grandparents once played, went to school, and so on. We traveled to France. I took them to Romania. And I believe it has forged an even deeper connection between my children and their roots.
I wrote an article, "Traveling to Find Your Roots", which was published in The New York Times Travel section on November, 15, 2013. It begins like this:
It was lunchtime at the Outlaws' Shack in Poiana Brasov, a mountain resort in Transylvania, and we were washing down chunks of kashkaval cheese and peasant bread with sips of tsuica, a Romanian plum brandy. At a neighboring table, a man picked up a red onion and bit into it as if it were an apple – something I had seen only my father do.
Traveling to Romania a few years ago was a chance to see, firsthand, where my father, who had died two years earlier, spent his childhood. Armed with addresses I'd collected from my father's sister, and accompanied by my three children, I felt the trip was a chance to experience my father's heritage: to see his home and school, the local synagogue, the mountain resort where he learned to ski, and to eat the foods he spoke of longingly (though I refrained from biting into a raw onion).
Prompted by TV shows, such as "Who Do You Think You Are?" (whose new series started on TLC in July) and the new PBS series "Genealogy Roadshow", a spinoff of the Irish hit, a growing number of people are traveling with their family tree in tow.
To continue reading, click here.